I admit when I'm wrong, and I think I was wrong about the jumpsuit. Or perhaps I was just worn down, either way, I have revised my opinion and I think I'm into it. I went out this weekend (I know, crazy, right?) and a woman wearing one changed my mind. Now, don't get me wrong, this is not an everyday kind of outfit, or one for a wallflower. These are outfits that get noticed, so as long as you are ok with that, go forth and conquer the jumpsuit! Just be sure to choose one that is flattering, as with every trend, be careful and make sure it works for you. In my search for flattering ones I found many that were just plain baaaaaaad….
I like the neckline and high defined waist on this Catherine Malandrino version:
It's a tasteful and polished version, and I love that.
I LOVE this halter version: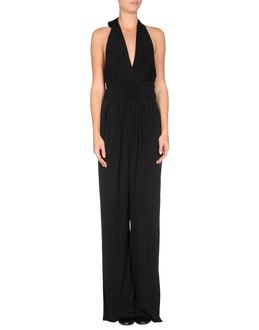 It's by Hale Bob, available on Yoox (where there are many many jumpsuits, click on the photo above and search "pant overalls") with the neckline, high defined waist and wide legs this is ultra flattering.
I think the trick to finding a good look is sticking to a defined waist and a flattering neckline. Too many look like flight suits or have elastic drop waists – not a good look for most of us. And have fun with it – heels and jewelry!